Region II Coastal Video Library
Featured videos available from the Federal Emergency Management Agency (FEMA) and other organizations about coastal flood risk, coastal flood mapping, flood insurance, mitigation and other topics are provided in the player below.
A full listing of videos organized by topic is provided below.
Coastal Flood Risk
FEMA Region II Coastal Flooding Video
This video examines coastal flood risks in New Jersey and New York City, as well as the roles of homeowners, local government, and other agencies in mitigating those risks. It also describes actions to protect against future flood risks. This video was produced before Hurricane Sandy.
FEMA Region II 2013 Hurricane Sandy Video
This video explains the effects of Hurricane Sandy on coastal New Jersey communities and discusses rebuilding, planning, mitigation, and preparedness in the aftermath of the storm. Experts appearing in the first Coastal Flooding Video return to share their views post-Sandy.
Coastal Animations
These 3D animated videos show the effects of coastal forces that could harm homes or other structures during a coastal storm.
1-Percent-Annual-Chance Flood Video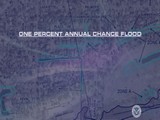 Since 1971, FEMA has used the water levels associated with the one percent annual chance flood to define flood risk.
Storm Surge Analysis
This video explains storm surge and storm surge analysis.
Storm Surge Fast Draw

This fast draw video explains storm surge, which is what officials use when determining who to evacuate.
Decision Maker's Toolbox: Viewing Sea Level Rise
This video provides information about the sea level rise viewer developed by the National Oceanic and Atmospheric Administration (NOAA) Coastal Services Center that offers access to data and information about the risks of sea level rise, storm surge, and flooding along the coastal United States. The web-based map can help business owners and community planners build in a more resilient way.
Coastal Flood Mapping

How to Use the Preliminary Flood Map Feedback Portal
This video shows how to submit and track feedback on the preliminary Flood Insurance Rate Maps (FIRMs) and Flood Insurance Study during the statutory 90-day appeal period using the FEMA Region II Preliminary Flood Map Feedback Portal.
Coastal Flood Mapping Process
This video describes the FEMA coastal flood mapping process.
Coastal Zones/LiMWA Animation
This animation describes the three basic coastal zones and one new zone (LiMWA) in the new NFIP maps.
Light Detection and Ranging (LiDAR) Video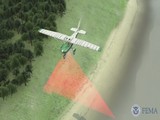 LiDAR is a mapping technology used to capture topographic information. LiDAR data can be used to calculate the patterns flood water will follow during intense events.
Risk MAP Testimonials
This video collection features interviews with key stakeholders regarding the importance of Risk Mapping, Assessment, and Planning (Risk MAP) in their communities.
Webinar: Your Role in NJ/NY Coastal Flood Map Revisions
This two-part webinar provides information related to coastal flood map revisions in New Jersey and New York. Session A covers post-Sandy efforts, Advisory Base Flood Elevations (ABFEs), Risk MAP, and the coastal flood study underway. Session B covers Risk MAP products, the public's role in the map revision process, and map revision timelines.
Webinar: Reducing Coastal Flood Risk: Making Use of the Updated FIRMs
This two-part webinar provides information about using FIRMs to reduce coastal flood risk. Session A covers post-Sandy efforts since January 2013, coastal flood zones, and reducing flood risk. Session B covers affected communities, coastal flood study timelines, and available flood risk tools.
Flood Insurance
Biggert-Waters Flood Insurance Reform Act of 2012
This video collection covers topics related to BW-12, including the impacts of BW-12 on the National Food Insurance Program, elevation ratings, subsidized rates, and reducing insurance costs.
The Language of the NFIP
This video collection from H20 Partners, Inc. explains key NFIP terms such as base flood elevation, flood insurance rate map, flood zones, and elevation certificate.
Recovery and Mitigation: Best Practices and Successes
Hurricane Sandy Video Collection
FEMA videos showing response and recovery efforts from Hurricane Sandy.
First Blue Acres Buyouts Home is Demolished in Sayreville, NJ
A Sayreville, NJ home is the first house to be demolished as part of the Blue Acres, a state of New Jersey program that seeks to purchase homes from property owners in flood-prone areas on a voluntary basis.
Sea Isle City Succeeds in the Community Rating System
In this video, Sea Isle City public officials discuss their community's Community Rating System (CRS) program success story. CRS gives participating communities flood insurance incentives in return for the implementation of floodplain management standards that exceed minimum National Flood Insurance Program requirements and reduce future flood risk in the community.
FEMA Higher Standards
Adopting higher standards of floodplain management can save lives, reduce damage to property from floods, and provide discounts on insurance through the Community Rating System program. This video provides information about activities that significantly reduce insured losses at the community level and encourages communities to get involved in local floodplain management.
Elevating the Row House
In the aftermath of Hurricane Sandy, many New York homeowners are looking at raising their homes when they rebuild or renovate to protect their property when the next flood occurs.
Homeowner Elevates Historical House
After being flooded by Hurricane Sandy, homeowners Al Grover and his wife decided to raise their home 13 feet to mitigate from any future flood damage.
Mitigation Success
A disaster survivor of Hurricane Sandy acknowledges the importance of following FEMA's guidance and adhering to current building codes when building with mitigation in mind.
Sea Bright Mitigation
Two homes in Sea Bright, NJ, survived Hurricane Sandy with minimal damage after being built with mitigation in mind.
After Sandy: Changes and Choices
For many New Jersey residents and businesses, "resilience" means recovering from storms like Hurricane Sandy. Lisa Auermiller with the Jacques Cousteau National Estuarine Research Reserve talks about the factors that spur people to take a longer-term view.
Green Infrastructure

This video from NOAA provides information about how green infrastructure can help protect your community from natural hazards such as flooding.
Preparedness
10 Pre-Blackout Tips
Ten tips to help you prepare for a blackout.
Five Pre-Storm Tips
Mary Elmasri, Pharmacy Vice President Rite Aid, provides five items to have ready when a storm is coming.
Steps to Take to Prepare for a Storm
Community Emergency Response Team (CERT) representative Annmarie Buraczeski shares her personal experience with Superstorm Sandy and talks about what steps to take in preparation for a storm.
Preparing Makes Sense for Older Americans
An instructional video containing information specific to older Americans and tips on how to prepare for emergency situations.
Preparing Makes Sense for People with Disabilities and Other Access and Functional Needs
An instructional video containing information specific to Americans with disabilities or other access and functional needs regarding emergency preparedness.